LATEST NEWS
CONTACT US
ADD:
TEL: 086-18682010696
FAX: 18682010696
E-mail: info@moskyaudio.com

> M-SERIES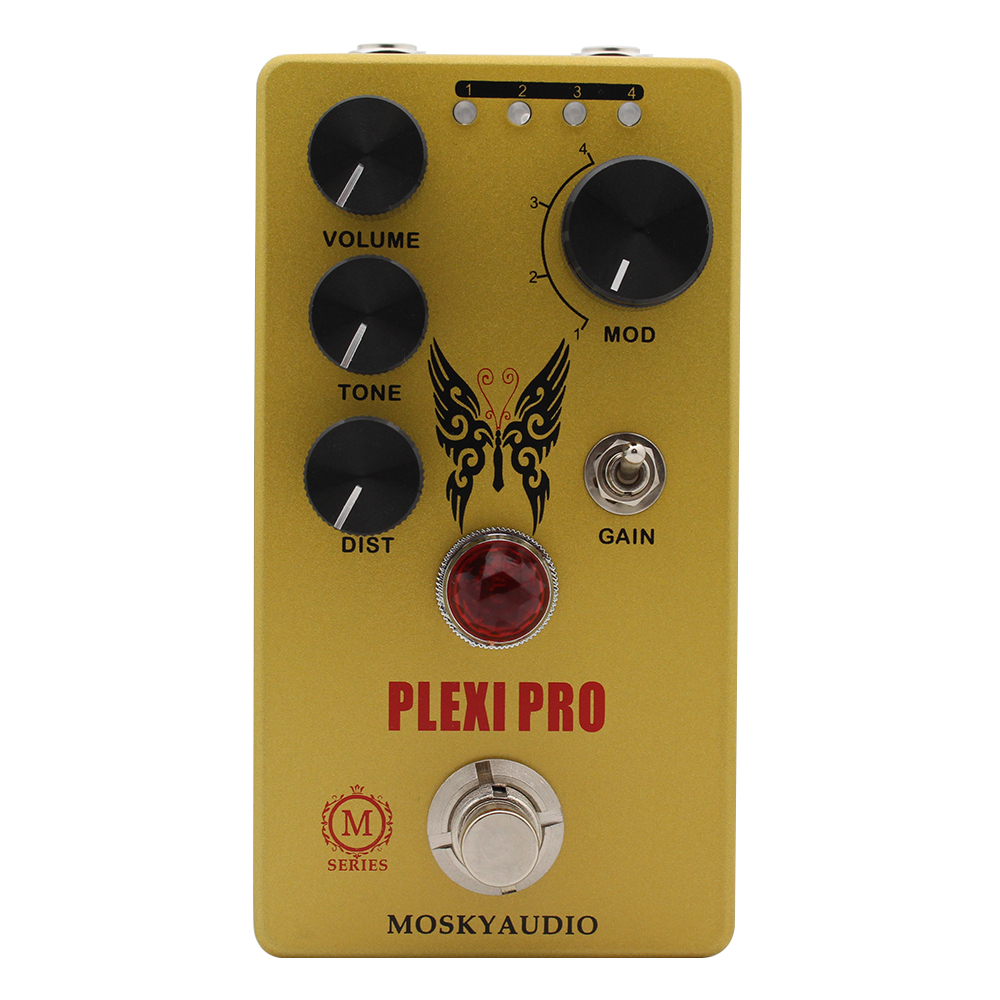 PRODUCT INTRODUCTION
Product Introduction:
Classic Marshall Plexi sound
Plexi Pro guitar effect pedal provides plenty of power and a crushing tonal response all in one little stompbox.
Responsive dynamics, harmonics filled sustain to get that famous Plexi "brown" sound without having to buy a giant sized stack.
It is built for guitar heroes, it cleans up if you turn it down, but that's not why you want this pedal. turn the knobs to the right and start wailing away.
Plexi Distortion Pedal for Guitar
The Plexi Pro is modeled to achieve the sound similar to the old Plexi style amps from Marshal. The Plexi faithfully replicates the immediate overdrive tone synonymous with turning the gain up on the Plexi head. Although not the intention at the time, this became the signature sound of Marshall amps for years to come, and a sound the plexi recreates convinceingly.
Volume, Tone and Distortion Control
The Plexi has three controls that can be configured for the particular type of plexi sound required. Having all controls at zero will produce a standard high gain, overdrive at the input stage of an amp sound, whilst turning them all up to eleven will elevate the tone to a screaming, high frequency solo tone for some wild playing. If the middle ground is for you, then all controls at midpoint will give you the solid rock rhythm Marshall type tone that many rhythm guitarists in a rock band seek.
True Bypass Switching
The Plexi has true bypass switching that eliminates any signal interference when switching the pedal on or off.
Gain Switch And 4 Mode Selection Switch
The Plexi has one gain toggle switch and one 4-Mode selection switch ,Provides gain and adds more tone mode options.
Specifications:
Input Impedance: 1MΩ
Output Impedance: 1KΩ
Running Current: 35mA
Effect Type: Distortion
Control : VOLUME,TONE,DISTORTION
One Toggle Switch : GAIN
4-MODE SELECTION KNOB
True Bypass
Power Supply: DC 9V ,Centre Negative
Packing Dimension:14.7(L)X 7.8(W)X 7(H) CM
Weight: 310g