LATEST NEWS
CONTACT US
ADD:
TEL: 086-18682010696
FAX: 18682010696
E-mail: info@moskyaudio.com

> Multi-Effects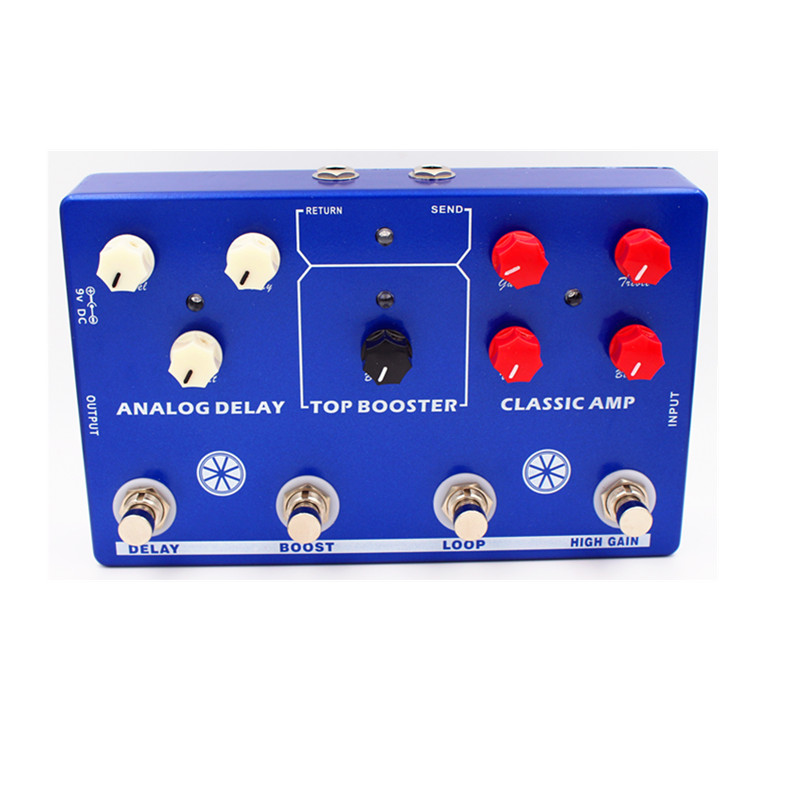 TONE MAKESTATION
Product Model:MP-54
4 effects in 1
Dimensions (W/D/H):188mm X 120mm X 36mm
Product description:
PRODUCT INTRODUCTION
CLASSIC AMP :
Simulate the British crunch tube distortion and cabinet of 1960A amplifier
Extra amount of gain boost to higher frequency for greater distortion effect. Passive 3 band EQ for nature tone
High Gain and large adjustability range, good dynamic
Bass knob: control the amount of low frequency
Gain knob: adjusts the amount of distortion
High knob: control the amount of high frequency
Level knob: control the level of the distorted signal
True bypass for eliminating any signal interference when switched off
TOP BOOSTER
Clean booster
The Booster is a discrete FET preamp pedal with a low impedance output. It is based around the classic preamp side of an Echoplex and produces a shimmering boost tone that adds some high end sparkle and definition
the EP Booster provides up to +20dB of unadulterated boost with multi-dimensional, shimmering highs and lows, and no ear fatigue. The internal DIP switches let you choose the boost frequencies, and EQ settings.
True bypass for eliminating any signal interference when switched off
ANALOG DELAY
BJF DESIGN AMBIENT DELAY PEDAL
is a natural sounding digital/analog delay, with analog direct signal path. has about the same bandwidth as the classic tape echo units, and it can be used in front of an amplifier .
It is containing just the basic delay features; Delay Time, Delay Level and Repeat controls. It was designed to work as an ambience delay; like that of a vintage tape echo and the repeat formation was specifically designed to allow easy setting and less critical setting of delay time. With delay times higher than 120ms, the delay time is sometimes set on the beat or on a multiple of the beat.
LEVEL: Sets the level of delayed signal mixed with straight guitar tone, fully CCW there is only straight (un-effected) guitar signal heard and fully CW gives the loudest delay.
DELAY: Controls the delay time from 25ms (fully CCW) to 600ms (fully CW)
REPEAT: Controls the repeats of the delay signal, fully CCW gives one repeat and at fully CW you get infinite feedback.
True bypass for eliminating any signal interference when switched off
LOOP
Can access other effects or effects chains
True bypass
Specifications:
• Power: 9V DC
• Dimensions:188(L) x120(W) x35(D) mm
• Weight: 650g
True bypass for eliminating any signal interference when all switched off