LATEST NEWS
CONTACT US
ADD:
TEL: 086-18682010696
FAX: 18682010696
E-mail: info@moskyaudio.com

> Multi-Effects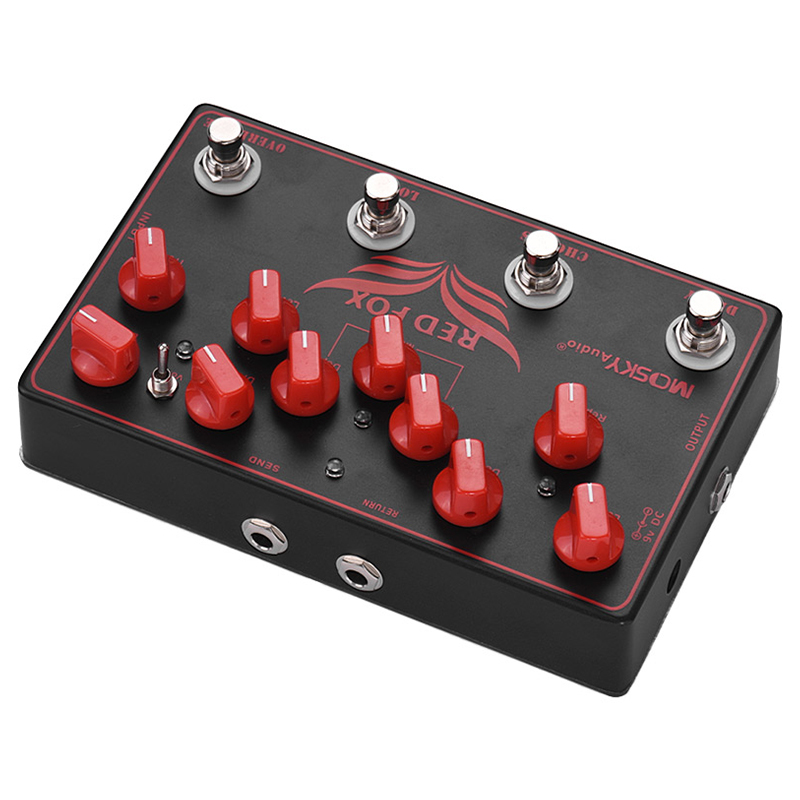 RED FOX
Product Model:MP-54
4 effects in 1
Dimensions (W/D/H):188mm X 120mm X 36mm
Combined Effect Pedal 4 Effects Pedal in 1 Unit
Product description: Combined Effect Pedal 4 Effects Pedal in 1 Unit
PRODUCT INTRODUCTION
Combined Effect Pedal
4 Effects Pedal in 1 Unit :
Overdrive ,LOOP,Chorus, Delay
RED FOX



Overdrive:
Based on the Timmy Overdrive (two mode overdrive).
Drive:Adjusts the amount of Overdrive
Bass:Adjusts the amount of low frequency in the sound
Treble:Adjusts the amount of Hi frequency in the sound
Level: Adjusts the output volume of the pedal
Voice: Two mode overdrive choose switch



FX LOOP
The SEND and RETURN jacks let you expand your board with other pedals .the FX LOOP point is positioned between the Overdrive And Delay modules.


Chorus
Based on the Boss Ce2 Chorus,Analog bucket brigade (BBD) technology yields premium vintage modulation effects..
Mix: Adjusts the amount of chorus
effect signal.
Depth:adjust the depth of chorus
effects,
Rate:adjust the speed of chorus
effects.


Delay:
Level: Sets the level of delayed signal mixed with straight guitar tone, fully CCW there is only straight (un-effected) guitar signal heard and fully CW gives the loudest delay.
Delay: Adjusts the delay time from 25ms (fully CCW) to 600ms (fully CW)
Repeat: Adjusts the repeats of the delay signal, fully CCW gives one repeat and at fully CW you get infinite feedback