LATEST NEWS
CONTACT US
ADD:
TEL: 086-18682010696
FAX: 18682010696
E-mail: info@moskyaudio.com

> Power Supply-Internal transformer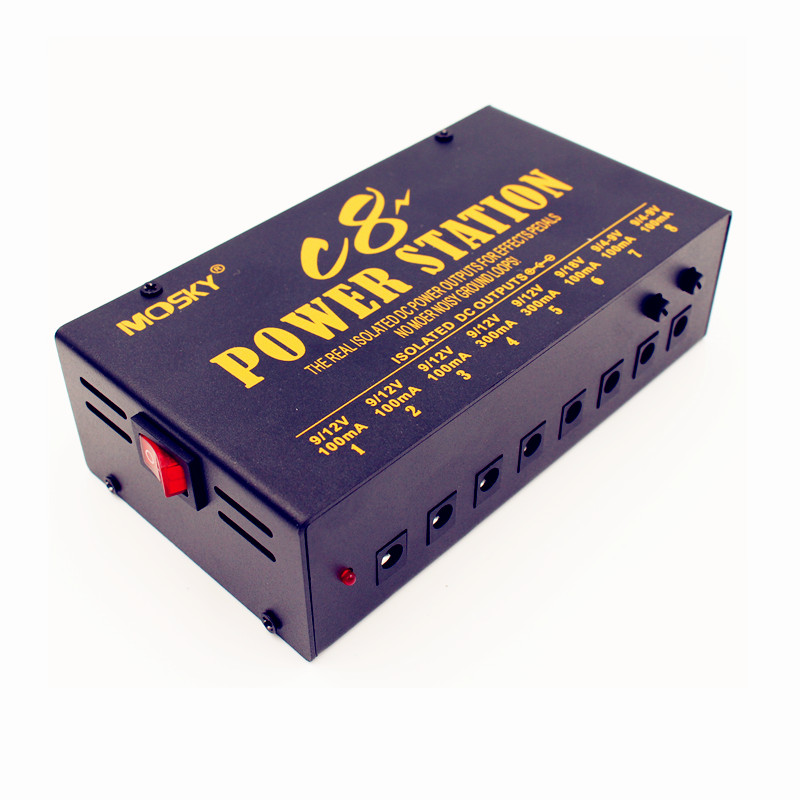 C8 POWER STATION
Product Model:MPP-05
Colour:Black
Type: Pedal Power Supply
Dimensions (W/D/H):155mm X 85mm X45mm
Product description: Internal transformer-Pedal power supply
PRODUCT INTRODUCTION
C8 POWER STATION
Isolate Pedal Power Supply-Internal toroidaltransformer
AMAZING TONE STARTS WITH PEDAL POWER!

The C8 Power station is based on the Voodoo Lab Pedal Power 2 Plus , add a 230/115v switch and a power switch, improve the output current.
The C8 is the finest power supply available for guitar effects. It's eight 9V outputs will power any type of battery operated effect. Each output is completely isolated, short-circuit protected, highly filtered and regulated. This insures reliable operation, free of hum and noise. C8 Power Station includes two high current outputs, capable of properly powering newer high power effects such as Boss Twin, Line 6 modelers, and TC Electronic Nova pedals. It also features two variable voltage outputs to simulate worn batteries. Using an optional voltage doubler cable, you can power many 18V and 24V

effects as well.
Features:
(1)8 outlets configured in 8 isolated sections.
(2)Internal toroidal transformer with isolation.
(3)Two SAG controls ,output Jack 7 and 8 are controls to vary the voltage from 4V to 9V
(4)Two 9 and 12V 300mA available
(5)short circuit protection of all outlets
(6)115 or 230V mains voltage operation
(7)durable steel enclosure
(8) Dimensions : 155 x 85x 45 mm Suitable for Pedaltrain pedal board etc
DIP Switch :NORMAL
Output
DC Voltage
Max. Current
1~3
9V
100MA
4~5
9V
300MA
6
9V
100MA
7~8
9V
100MA
DIP Switch :ON
Output
DC Voltage
Max. Current
1~3
12V
100MA
4~5
12V
300MA
6
18V
100MA
7~8
Adjustable 4V to 9V
100MA