LATEST NEWS
CONTACT US
ADD:
TEL: 086-18682010696
FAX: 18682010696
E-mail: info@moskyaudio.com

> Hand-Built Effect Pedals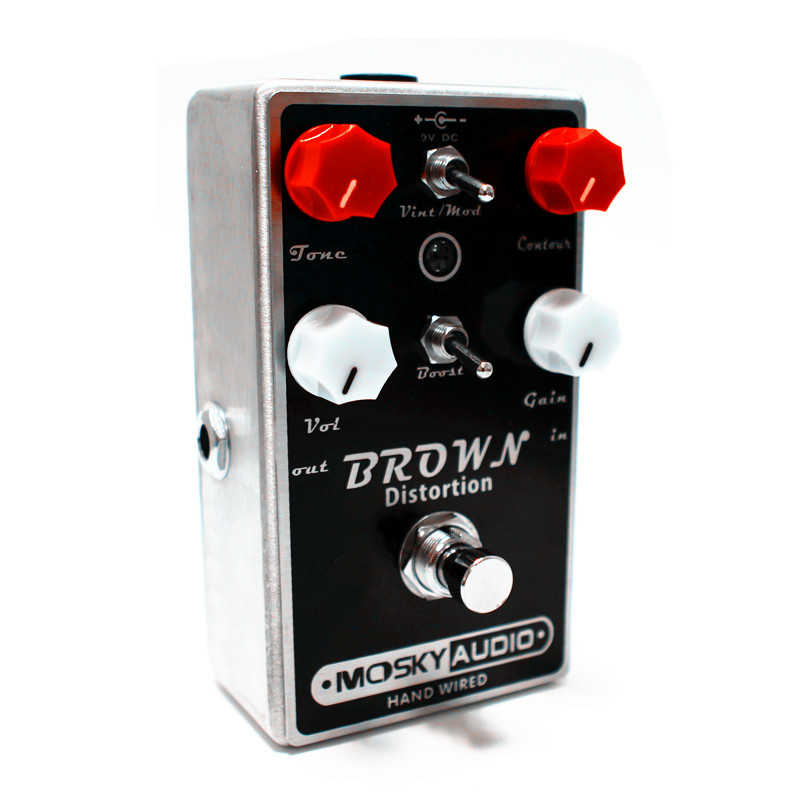 PRODUCT INTRODUCTION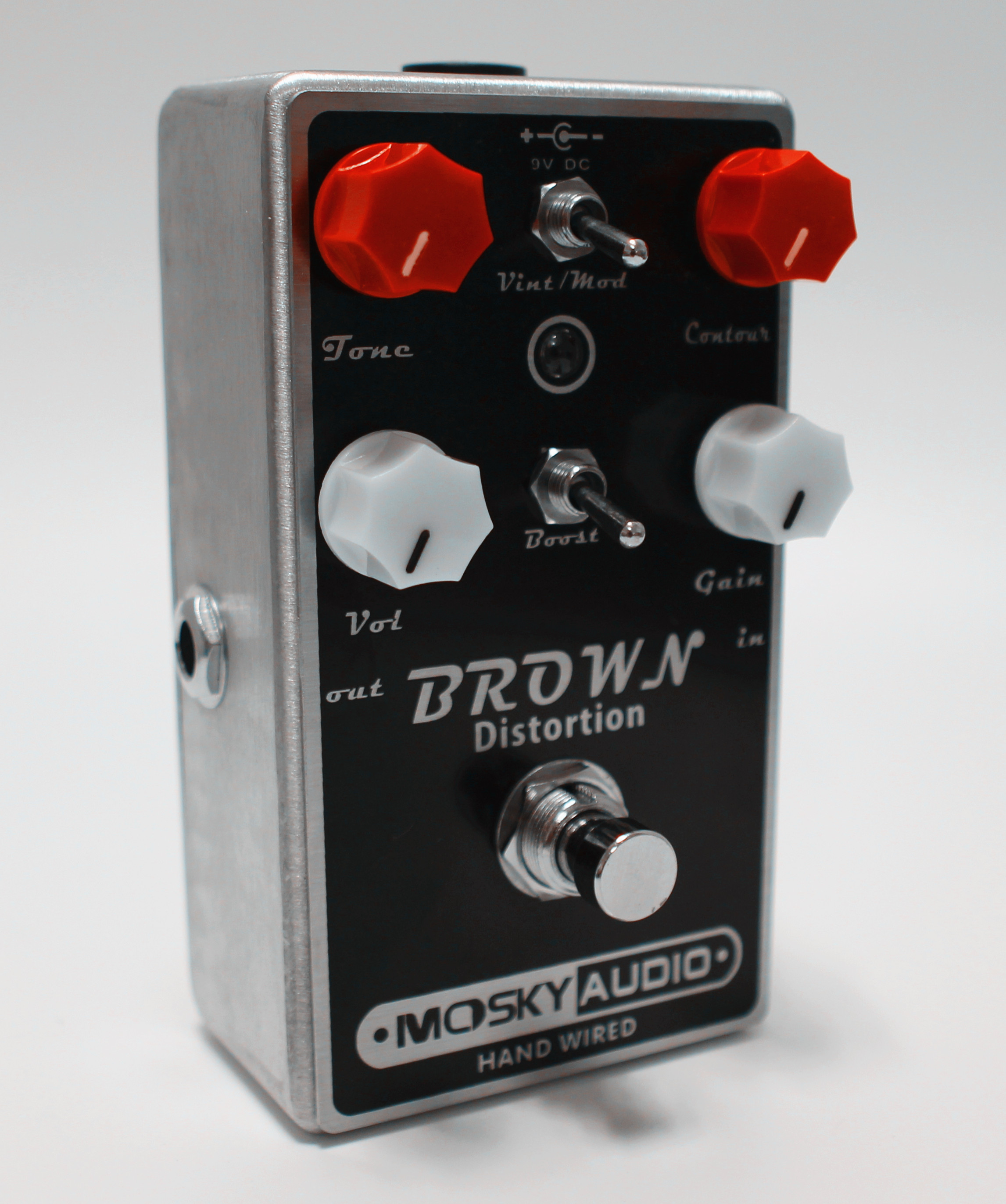 BROWN Distortion
"Brown Sound'.
It has an extremely tweakable EQ – from scooped mids to tons of warm mids, all with the turn of 2 knobs.
This pedal has 4 knobs — two separate tone controls that act as a sort of parametric EQ, gain and volume. It also has a 'bright' switch that adds a ton of variety and is very handy when playing a dark sounding amp, as well as another toggle switch that will give you high gain 'Brown Sound' tones.
Tone
This adjusts the frequency emphasis on the highs. It interacts substantially with the Contour knob and Vint./Modern switch. There are several ways you can approach adjusting the Tone. You could start with it maxes and roll it off until you like the amount of highs, or you could start with it lower and adjust it either direction if you want more or less. Either way, it's a fairly straightforward control, but the interaction with the other tonal adjustment options means you should expect to spend some time getting used to the overall tonal possibilities.
Vintage/Modern Switch
This control essentially sets the overall voicing of the pedal's frequencies, to be either darker with a classic tonality or brighter and more modern if you'd prefer that. Setting this up first will give you a good 'starting point' for your tone, but it's also useful if you've adjusted everything else and feel the overall tone needs to shift in a larger direction.
Contour
This adjusts the frequency emphasis overall. It interacts substantially with the Tone knob, and is affected by the Vint./Modern switch as well. At noon, this knob gives you a balances presentation of the overall frequencies; counterclockwise it becomes very midrance - forward, and clockwise it takes the mids out pretty heavily, contouring the sound for a very 'scooped' tone. A little adjustment goes a long way with this control. The best approach would be to start with the Contour knob at noon, and adjust from there. Of course, making such broad tonal changes, you're going to want to adjust the Tone control in conjunction with the Contour knob
Volume
This control adjusts the output level of the BROWN. There's plenty of volume on tap in either standard or Boost mode, so whether you want to go farther than you input level or just make sure it can do unity volume (the same level of signal going out as you feed it, when active), you're covered. The Gain, Tone and Contour knobs, and the Boost Toggle (or for Pinnacle Deluxe owners, footswitch) all have an impact on total output volume level, so you're probably better off waiting to adjust the Volume until you've dialed in the other controls. Re-adjustment might be necessary if you get it to the desired level and still need to tweak the sound.
Boost Toggle
This switch alters the internal gain structure of the pedal to bring much more drive, heavier and more aggressive distortion when engaged. , this functionality is found on the Boost Footswitch, for adjustment on the fly!
Gain
This control, in conjunction with the Boost Toggle , lets you dial in anything from a classic, almost laid back early rock tone all the way to modern high-gain. Our users, from international pros to weekend warriors, all have their own favorite ways of using the pedal, so however you end up liking the Gain setting, that's just fine. The "Brown Sound" is in there, that's the goal after all! But in terms of how much distortion you want, there's a great deal of flexibility and we encourage you to run through the whole gamut to get a good sense of how it works and responds before you settle on how you'll use it.